Finance Center
Welcome to the FranchiseForSale.com Finance and Lending Center. Here you will find companies that can help supply financing options to help you purchase your dream business.
Use Your 401K to Buy a Business! Guidant Financial is the leading provider of self-directed IRA's and business funding solutions through individuals IRA & 401(k)'s to a dramatically growing market. Guidant Financial Group's products are designed to give investors greater control of their retirement funds by allowing them to truly diversify into near endless investment opportunities. Learn More!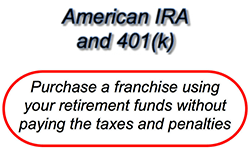 Use this nifty calculator to calculate your net worth. This will help you better determine what you may be able to afford when looking to buy a franchise or business opportunity. Learn More!